If you're looking for the perfect community for you and your family to grow, thrive and settle down in, accompanied by unbeatable amenities, a fantastic location and breathtaking homes—look no further than our widely-recognized Silverstone at Pearson Ranch community. At Riverside Homebuilders, we're deeply committed to our mission of creating phenomenal homes in highly sought-after communities throughout the DFW area—and this community in Weatherford, Texas truly exceeds expectations in all categories. To recognize Silverstone at Pearson Ranch in all of its glory, we wanted to take a moment to outline some of our favorite features about the location, floor plans and community as a whole—so continue reading to find out more about why this community is the perfect place for you to find the home of your dreams.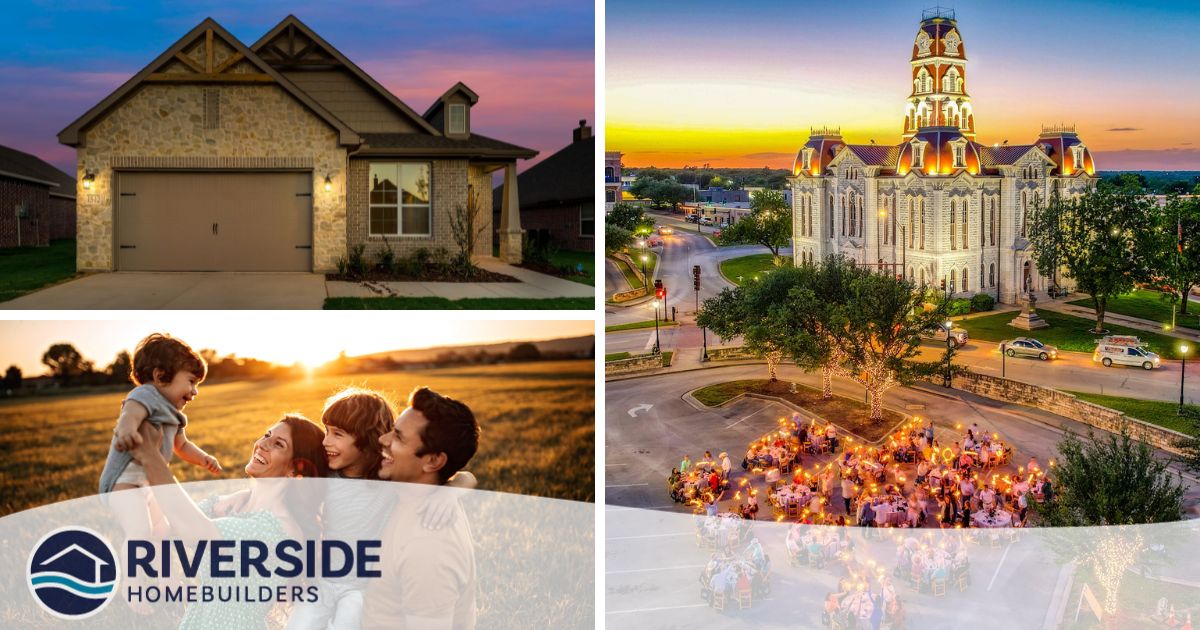 *Image of downtown Weatherford via https://d-winc.org 
An optimized location
The charming town of Weatherford, Texas is unquestionably the perfect place for families of all shapes and sizes to call home—which is exactly why Riverside Homebuilders has placed such a sensational community in this one-of-a-kind area. As one of the highest-ranking places in the entire state for education, cost of living, career opportunities and overall livability—residents appreciate the small-town feel and extreme appeal that Weatherford exudes from the outside in. 
Located about 30 miles west of Fort Worth and 60 miles west of Dallas, Weatherford boasts an array of local amenities and attractions while maintaining close proximity to central hubs for working professionals and those in need of big-city excitement. Citizens of Weatherford can enjoy fishing, swimming or walking the beautiful boardwalk on the scenic Lake Weatherford, or can take the time to explore the rich history and unique shops along the downtown streets—then hop on I-20 for an easy commute to world-class culture, sports, restaurants and entertainment. Weatherford also takes immense pride in its local festivals and events that bring the entire county into one location, including The Peach Festival, Events at Heritage Park and First Monday Trade Days. On top of the small-town charm and endless entertainment, you can't find a school district nearly as incredible as Weatherford ISD—with widely-recognized education and teaching to guarantee that your children will thrive and succeed while living in Silverstone at Pearson Ranch. Living in Weatherford can provide a perfect balance in lifestyles, ensuring that you and your family have a tight-knit community to come home to while having endless possibilities for fun and entertainment. 
With a growing population of over 30,000, the town is continuously expanding its development and economy to provide residents with the highest quality of life while maintaining a friendly environment—no matter how big it gets. In the town of Weatherford, neighbors have been helping neighbors for over a century, and that sense of community and cohesiveness is something that will never fade. With all that Weatherford has to offer, Silverstone at Pearson Ranch makes for the perfect addition to this quaint Texas town. 
A tight-knit atmosphere
The homes themselves are built with our distinctive quality, and our thoughtful designs effortlessly blend that classic Texas charm with the sought-after sophistication of modern homes. The fantastic homes in Silverstone at Pearson Ranch contain all sorts of high-end and forward-thinking features, from innovative layouts to one-of-a-kind finishes and everything in between. In this community, you'll be able to choose from one- or two-story plans with highly-functional layouts—each of them seamlessly combining top-quality features with a timeless design style. 
At Riverside Homebuilders, we understand that it's not just the home itself that you're looking at—it's the community atmosphere and amenities as well. With beautiful homes, a resort-style pool and endless green space throughout this friendly, tight-knit community, there aren't many other neighborhoods that embrace unity, tranquility and excellence like Silverstone at Pearson Ranch does—and you won't want to miss out on this opportunity. 
Phenomenal home designs
With 12 multi-functional and unique floor plans to choose from, you're guaranteed to find the perfect dream home for you and your family in Silverstone at Pearson Ranch. These plans, ranging from 1,703 to 3,185 square feet, 3 to 5 bedrooms, 2 to 3 bathrooms, and 2- to 3-car garages, offer thoughtfully-designed layouts with an array of features to fit your family's needs—from massive master suites to spacious great rooms and everything in between. 
If you're looking for an incredible two-story home with 5 bedrooms, 3.5 bathrooms, a secluded first-floor owner's suite and a layout that offers maximum space for the entire family, suited to meet all of your wants and needs in a home—our stunning San Jacinto III plan is one you'll want to browse through. For those who don't need as many bedrooms, but still want a spacious home design with plenty of room for the whole family to thrive under one roof, the popular San Saba III is perfect for you—featuring 3 bedrooms, 2 bathrooms, an optimized single-level layout and a sizable living area that the whole family can gather in. With sought-after, elegant designs spread throughout the 4 bedrooms, 3.5 bathrooms, relaxing covered back patio, gourmet kitchen and strategically-placed owner's suite—the remarkable Big Cypress II floor plan boasts an amazing layout to easily transform into your ultimate dream home. 
With all of our floor plans offering captivating and timeless exterior elevations to choose from, you can rest assured that your home will be perfectly crafted for you in this exceptional community. Browse all of Silverstone at Pearson Ranch's floor plans here. 
Make the move today
From the elegant homes and incredible amenities to the optimized location and exceptional community atmosphere—there's certainly no better place for you to create the ultimate dream home you've always envisioned that you and your family will love for years to come. For those who are eager to get the ball rolling on their forever home in Silverstone at Pearson Ranch, be sure to check out our available quick move-in homes before they're gone, and feel free to stop by our breathtaking model home at 1656 Spur Ledge Court in Weatherford, Texas, 76087—where you can truly imagine what life could be like in your own Riverside home within a tremendous community. 
Our team at Riverside Homebuilders is beyond proud to show you our commitment to quality and value in this outstanding community, and we can't wait to continue this journey with all of our future homeowners. With over 3 generations of experience in building gorgeous homes and renowned communities throughout the DFW area, Riverside Homebuilders is the builder you can trust. To start your journey to your ultimate dream home in Silverstone at Pearson Ranch and for any additional information, don't hesitate to give us a call today at (817) 601 - 6230 or contact us online at any time.